SmartOLT Cloud: Get the best user experience for your OLTs
Software Defined Networking. Configure anything with a click.
---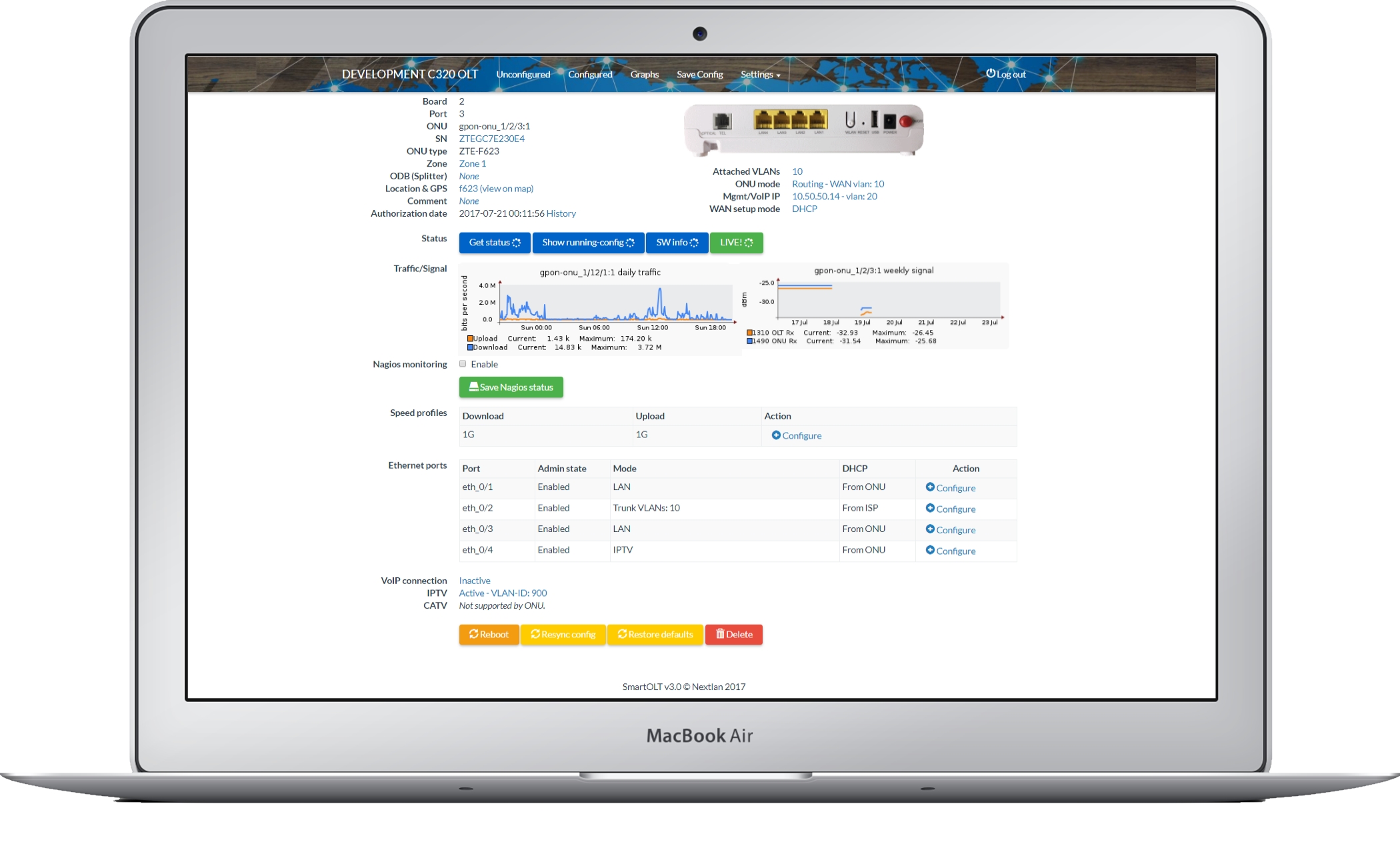 Simplicity is the ultimate sophistication.
Leonardo da Vinci
---
How SmartOLT Cloud helps you
SmartOLT Cloud helps your ISP business to better manage PON networks.

Solves everything related to provisioning, authorization, managing and troubleshooting OLTs and ONTs at a professional level but at a very competitive price.

The easiest to use. Zero learning time. Just login and become a master of OLTs management.

Everyday, our purpose is to innovate and create for you better, improved solutions that enhance your processes as a telecommunication operator.

Saves your precious time.

You'll love the magic crafted inside of SmartOLT. Forget about setup of Tconts, GEMports, Flows or Service-ports because they are magically handled by SmartOLT with a single click.

Achieve your goals faster than with any other alternative.

Less than 10 seconds to provision an ONT. Increase productivity, achieve more installations in a day. 10x better than NetNumen and U2000 (customer feedback).

Make a good impression to your subscribers

Enable Remote access to the customers' ONT. Your support team is able to check and modify remotely the settings on the ONU when the subscriber reaches to your callcenter. Solve instantly the issues related to CPE settings without having to leave the office.

Built with safety in mind.

SmartOLT Cloud operates on Amazon, Digital Ocean and LeaseWeb's state-of-the-art global network of datacenters. We safely store your data multiple times, across separate geographical areas. First location is the OLT itself, so you are always in control of your data. The information you exchange with SmartOLT are encrypted via SSL certificates.

Find customers' location faster, using GPS data.

Your technicians will identify customers' locations easier with the builtin GPS and StreetView positioning plugin, which shows them precisely where the customer location or Splitter-ODB Box is installed. No more guessing locations in the dark.

Failure Prediction, Signal history and LIVE data

Get notified when signal varies more than +/- 3dB. Signal history helps you trace precisely the moment and link span where attenuations occurred on the fibers. Detect the problems faster. View LIVE informations: Mbps, packets, signals and more.

Access anytime, from anywhere on planet Earth or Space.

Anywhere you have a device connected to the internet you have access to control your OLTs. Nothing to install. Zero Setup Investment.

Support and regular updates.

Continuous improvements and new features based also on customers feedback are rolled out every month. Skype and email support is here for you at any time, should you have questions or related issues to solve.
---
A new vision
Creating the new SmartOLT Cloud meant inventing an entirely new approach on how we interact with network devices. By making the configuration process so simple and easy, OLTs can be managed anytime, from anywhere you have an internet connection. Even non-technical persons are using SmartOLT with huge success. SmartOLT works on all platforms, devices and browsers: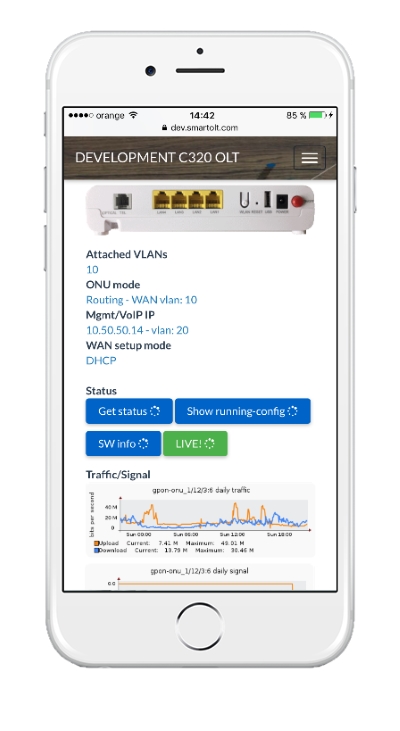 Life is frittered away by detail... simplify, simplify.
Henry David Thoreau
Ratings
Simplicity. Ease of use

Mobile responsive. Works on any device - NO Java, NO Flash required

Speed. Features. Reliability

LIVE traffic information about ONUs

Detailed Graphs for Signals, Traffic & CPU Load, Memory, MAC Table

Exceptional and personal Technical Support

Competitive pricing allows access to all features
KEY Supported Features
ZERO-Touch ONU Configuration

Setup Static IP, DHCP or PPPoE with a simple touch in the SMARTOLT screen.

Remotely access ONUs anytime.

Triple Play

IP, IPTV / CATV, Voice over IP

Flexibility

Manage EPON and GPON in one application

Choose Routing or Bridging ONU modes

API interface

Manage the OLTs using API calls: https://api.smartolt.com

Integrate SmartOLT into existing CRMs

Advanced

Apply VLANs on ONU ethernet ports in Access, Trunk or Hybrid mode

GPS Positioning for ONUs

SPEED limiting

DHCP Control

Shutdown/Enable Ethernet ports

Reboot, Restore ONU to factory settings

Monitoring and Alerts

Detailed information of ONU/OLT Power levels, Fiber Attenuation, Link Distance, ONU Temperature.

ONU Status and Event History: Online, PowerFail, FiberCut, Optical Interference, ONU MAC Address Table

E-mail and SMS Alerts about critical network changes

Graphs

History Graphs for every ONU: Download, Upload, OLT/ONU Signals, CPU, Uplinks